Biography:  Barbara Smith was born December 6, 1946 in Cleveland, Ohio. She is a radical black lesbian feminist liberation activist, truthteller and a writer. She plays a a big significant role in building and sustaining Black Feminism in the United States. Barbara has a twin sister, Beverly Smith, who is also a lesbian feminist activist and writer.  While she was growing up education was a really high priority in the house hold. Her family expected a lot from her, Therefore, she earned her B.A. from Mount Holyoke College in 1969 and her MA in 1971 from the University of Pittsburgh. She then completed her doctoral studies at the University of Connecticut in 1981. She was the first member of the Smith family to graduate from college. Her activism started in High School where she participated  in boycotts, marches and civil rights protests in the 1960s. From there she has been doing her fervently ever since.  Smith brought back black women's literature to colleges and publishing, and the changing self-image of young women of color.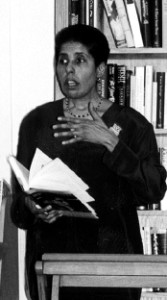 Ever since the early 1970'S Barbara has been very active as a critic, teacher, lecturer, author, scholar, and publisher of black feminist though. The reason why Smith went to graduate school is due to the fact that she wanted to teach African American Literature. She was left out of the curriculum because she was a black African American woman . She taught her first class on black women's literature in 1973 at Emerson College. She loved teaching there because she felt that every new day was a revaluation. She wanted to teach her students to learn about themselves. She believed that one of the ways you figure out yourself in this world is that you experience art, that reflects your experience, and that's what she was doing every day in class .  Ever since then over the last twenty five years she has been teaching at numerous universities .
AWARDS:
Smith was made a Bunting Institute at Radcliffe College Fellow in 1996, and received a 1994 Stonewall Award for her activism. She was as well awarded the Church Women United's Human Rights Award in 2000 and was nominated for a Nobel Peace Prize in 2005.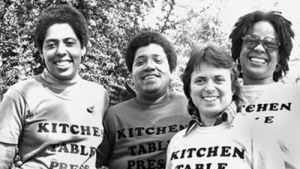 Black folks." It's that marginalization that I experience." (Neely 1999) Being a living example of the what queer African American women have struggled with, Smith shows why so many people were interested in works.
Smith felt the there needs to be more of a growing need for women of color to have their own autonomous publishing resource. Therefore in 1980 she grouped up with other lesbian feminist Audre Lorde and Cherríe Moraga, and Co-founded Kitchen Table: Women of Color press, the first U.S. publisher for women of color. They published books, pamphlet and posters, and they were very embrace, it made people excited.  Their goal was specifically promoting the writing of women of color of all racial/ethic heritages, national origins, ages, socioeconomic classes, and sexual orientations. They impacted on mainstream publishing, there were more and more women of color being published by those presses.
National Black Feminist Organization *In 1975 Smith reorganized the Boston chapter of the National Black Feminist Organization to establish the Combahee River Collective. She partnered with Beverly Smith, Demita Frazier and other black lesbian feminists. The group began holding consciousness-raising retreats to share their experiences, discuss political work and define their beliefs and goals as black lesbian feminists.
Interview*When Neely presented the subject of marginalization, Smith responded  saying, "I think that Black lesbian existence, Black women's existence generally, and our right to have decent lives on the planet, are still subjects of debate. We are marginalized even at the point where some of us appear to be successful in our careers. I find it rather frustrating. My general impression is that my work is stereotyped as "too Black for the queers and too queer for theafrican american women have struggled with, Smith shows why so many people were interested in works.
*She is the author  ofHome Girls: A Black Feminist Anthology, Yours in Struggle: Three Feminist Perspectives on Anti-Semitism and Racism, and The Truth That Never Hurts: Writings on Race, Gender and Freedom. The Truth that never hurts sold out its first printing in a period of four months.  It's a writing on race, gender, and freedom which brings together more than two decades of literacy criticism and political thought about gender race, sexuality, power, and social change.
*Smith's essay "Toward a Black Feminist Criticism," is cited as a major catalyst in opening the field of black women's literature. Pieces about racism in the women's movement, black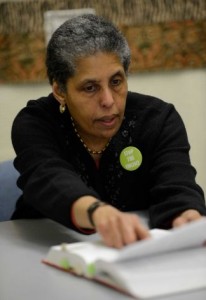 "The reason racism is a feminist issue is easily explained by the inherent definition of feminism. Feminism is the political theory and practice to free all women. Women of color, working-class women, poor women, physically challenged women, lesbians, old women, as well as white economically privileged heterosexual women. Anything less than this is not feminism, but merely female self-aggrandizement." -Barbara Smith
Smith still speak on college university campuses,she meets younger black woman who have come of thinking that they have great value , that there was nothing wrong with the way they looked, they way they sounded, the things that were important to them, because they do look out and see their faces reflected.
Bibliography:
Heath, T. (1998, 06). Making history: An interview with barbara smith. Lambda Book Report, 6, 1-1, 6+. Retrieved from http://search.proquest.com.libaccess.sjlibrary.org/docview/236975588?accountid=10361
Klorman, R. (1998, 10). Activist. writer. revolutionary. barbara smith: A political life as a black radical, lesbian feminist. Off our Backs, 28, 1-1, 16+. Retrieved from http://search.proquest.com.libaccess.sjlibrary.org/docview/197126545?accountid=10361
Neely, L. (1999, Talking with barbara smith: A cross generation. GCN : GayCommunity News, 24, 20-29. Retrieved from http://search.proquest.com.libaccess.sjlibrary.org/docview/199327633?accountid=10361