by Zahira Flores, Madeline Loya, & Breyana Semien
Lorna Dee Cervantes, born in San Francisco, California, on August 6, 1954, is a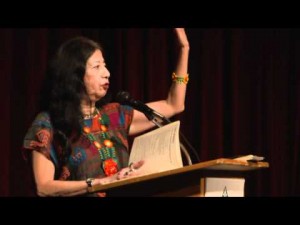 Chicana poet and activist. Her parents were a working-class Mexican American couple; her mother was a homemaker and her father was an artist (Gonzalez 2007). Cervantes grew up in a barrio called "Horseshoe" located in East San Jose. Where she grew up, there was poverty, gangs, and street violence everywhere. Because of the love and support of her grandmother, Cervantes was able to overcome her difficult childhood.
Poetry was an important role in Cervantes' life; when she was eight, she wrote her first poem. Poetry was a way for her to cope with her experiences as a poor urban Chicana (Gonzalez 2007). In Cervantes' teen years, she joined several civil rights movements, such as, the National Organization for Women, the Native American Movement, and the Chicano Movement. She used poetry to address significant issues, such as, racism, sexism, violence against women, and the oppression of the disempowered (Gonzalez 2007).
Cervantes had many famous works; for instance, her very first book, Emplumada, received an American Book Award, in 1982.
After her publication of Emplumada, critics believed that she Cervantes marked the "threshold of a new phase of Chicano literature…" (Rodriguez y Gibson 2008). She was then referred to as "our Chicano poet laureate" from Chicana dramatist, Cherrie Moraga (Gonzalez 2007). Cervantes was also very popular and awarded for her other pieces of work. Her second book, From the Cables of Genocide: Poems on Love and Hunger, was based on her past, focusing on her parents divorce and her mother's death (Gonzalez 2007). She was awarded the Latino Literature Prize and the Paterson Poetry Prize for this book as well. Her fifteen-year project, Drive: The First Quartet, addresses political violence and genocide. Many would say that Cervantes was one of the best Chicana writers, with several awards to prove that.
Cervantes was given awards such as, the National Endowment for the Arts Fellowship Grant for Poetry in 1978 and 1993, Outstanding Chicana Scholar by the National Association of Chicana and Chicano Scholars (NACCS) in 1993, and the Wallace/Reader's Digest Writer's Award from 1995 to 1998 (Gonzalez 2007). Because she is such a talented women with all these awards, people take notice and want to know more about this woman.
On May 31, 1999, in Davis, California, Cervantes was interviewed by Sonia V. Gonzalez. Gonzalez asked Ms. Cervantes, "Who were the poets that influenced you at each stage, when you were writing Emplumada, From the Cables of Genocide, and Drive?" Cervantes's answered, first with the name, Pablo Neruda. She said that she discovered him at the age of fifteen and said that her brother had brought her The Heights of Machu Picchu. She said that, "was the first thing that was speaking to my cultura." Cervantes then mentioned African American women poets as well. She brought up Maya Angelou's work, I Know Why the Caged Bird Sings, and includes Alice Walker, June Jordan, Sonia Sanchez, and others. She said that African American women poets "politicized" her, which saved her life. With all her influences, by the time Cervantes was fifteen, she became a committed activist.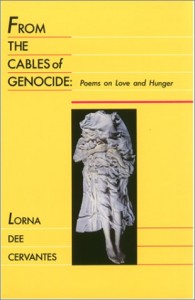 Along with many interviews, Cervantes was interviewed by Jeanetta Calhoun Mish. This interviewer focused more on what Cervantes was doing and writing currently. What was most interesting was the end of the interview where Mish asked, "Is there anything else you'd like to add?" Cervantes response was, "Growing up in this mestiza consciousness, I was constantly told, implicitly and explicitly, all the things I could not do because I was a girl, because I was Mexican, because I was this, because I was that. So part of my survival has to do with doing whatever the hell I want…" Unlike several colored women growing up in the past, Cervantes did not let the discouragement of others get to her. She was an independent woman and took charge into making a change.
There are several ways people have addressed issues such as racism, sexism, violence against women and so on. What makes Lorna Dee Cervantes so unique is that she addressed it in a way that used her talent: poetry. She makes connections to things people, especially women, are going through in everyday life through her poetic words. "Love and hunger shape Cervantes' engagement with the young women in these poems" (Rodriguez y Gibson 2008). She also discusses the way female sexuality is categorized. Along with writing about feminist issues "Cervantes creates a way of understanding devastating cultural and historic losses…" (Rodriguez y Gibson 2008) and how to deal with this grief. It is interesting and inspiring that she took what she loves and took what she did not and put it together into art. Not many people can take their feelings about social issues or cultural problems and turn it into creative works of art that everyone can relate to, but Lorna Dee Cervantes was one of the few who can do this.
Besides being a great poet and having award winning books Lorna Dee Cervantes is an instructor of creative writing at the University of Colorado, Boulder. Cervantes has also founded a literary magazine called Red Dirt. She also is the founder and editor and chief of Mango Publications which publishes work of Chicano writers. Lorna Dee Cervantes is living proof that being a woman of color, overcoming hardships, and becoming successful is possible if you fight hard enough to achieve your dreams.
Bibliography
Gonzalez, Sonia V. "Poetry Saved My Life: An Interview with Lorna Dee Cervantes." MELUS
32.1 (2007): 163-80. Wilson OmniFile Full Text Mega Edition. Web. 28 Apr. 2014.
"Lorna Dee Cervantes." Poetry Foundation. Poetry Magazine, 2010. Web. 1 May 2014.
<hhtp://www.poetryfoundation.org/bio/lorna-dee-cervantes>.
Mish, Jeanetta C. "A Conversation with Lorna Dee Cervantes." World Literature Today 84.4
(2010): 28-31. Wilson OmniFile Full Text Mega Edition. Web. 28 Apr. 2014.
Rodriguez y Gibson, Eliza. "Tat Your Black Holes Into Paradise": Lorna Dee Cervantes and a Poetics of Loss. MELUS 33.1 (Spring 2008): 139-155. Wilson OmniFile Full Text Media
Edition. Web. 29 Apr. 2014.