by Denise Herrera and Alyna Perez
"A right is only a right if it can be exercised", said Byllye Y. Avery. Avery is an American health care activist focusing on women's health and needs, in particular those of African American women. She has continuously contributed to the movement for women rights with her own institutions and systems to improve the mental, physical, and emotional health of African American women.
By
llye Yvonne Avery was born on October 20, 1937 in DeLand, Florida. She received a Master's degree in Psychology in 1969 from the University of Florid
a as well as many honorary degrees from schools such as Gettysburg College, Thomas Jefferson University, Russell Sage College and others. She pursued her education as a means to become a teacher and help emotionally disturbed children. She dedicated her life to helping her community and trying to build a better place for children. Later in her life she suffered a tragic loss, her beloved husband passed away at the age of 33 and that is when she came to the realization that she had to focus on people's health.  Avery became very stressed after her husband's passing and she knew she wanted to help the African American community and women particular who were struggling with health issues. "… she focused particularly on women who, like herself, had a high level of stress in their lives. Self-help groups for African American women facing poverty, crime, violence, and racism were the cornerstones of h
er activism." (Encyclopedia Britannica, 2005) . She is incredibly dedicated and as you can tell , all of these factors she focused on were about helping women physically, emotionally and mentally.
With Avery's purpose, she wanted  to improve the  welfare and wellness of African American women as well. She participated in many projects like in 1981 , she took part in the National Black Womens Health Project. In 1987 , she created a documentary film and she is also the founder of the Black Women's Health Imperative. Avery founded the Imperative after witnessing the struggles and injustices against African American women regarding the health care system. She wanted to focus on advocacy, health education and research surrounding the needs of disadvantaged African American women.  She was awarded
a MAcArthur fellowship for participating in the project and for eventually having her own wellness center, she also received the Ruth Bader Ginsburg Award for a Pioneer in Women's Rights as well as many other prestigious awards. She began to focus on women's health by looking into their rights, like abortion and emotional support( psychological).
Avery began her fight for women's health care rights in the early 1970s, she believed not only in educating women about their rights in reproductive and general health but also educating men. She believed it is important to talk to men about sexual abuse and battery and the effects this has not only on women but on them as well, Avery said "Men need to know that when they hurt us, they hurt themselves. 'Cause we are their mothers, their sisters, their wives; we are their allies on this planet." (Women's Center, 1998). She also believed in open communication and the benefits of women talking to their daughters openly about sex and contraception to prevent early pregnancy. She saw the struggle of young girls becoming mothers before they were ready and how difficult this made their lives, she hoped that through opening the lines of communication between mothers and daughters they could better unders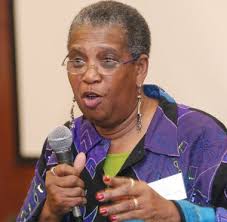 tand sex, prevent too early pregnancies and help young women be successful before having children.
African American women are very much affected by the difficulties of their communities such as poverty, violence, discrimination, drugs and HIV/AIDS all of which make an impact on the reproductive choices and rights of women. The Health Imperative founded by Avery is dedicated to helping women who need information or help regarding domestic violence, contraception, safe and affordable abortions as well as birthing plans and options.
Byllye Y. Avery is an activist, educator and a leader for social change who has made great strides in improving healthcare access for African American women. She has made reproductive rights as well as knowledge about both general and reproductive health care available to women and has focused her efforts into empowering women with this knowledge.
http://www.makers.com/byllye-avery
Bibliography
-"Black Women's Health: Let's Start Talking About It! Black Women Speak Out about Health Problems." Hera. Women's Center, 28 Feb. 1998. Web. 25 Apr. 2015. <http://search.proquest.com.libaccess.sjlibrary.org/docview/224692767?accountid=10361>.
-"The Black Women's Health Imperative." Black Women's Health Imperative. Web. 2 May 2015. <http://www.bwhi.org/staff-and-board-members/board-member/byllye-nbsp-y.-nbsp-avery-nbsp/?back=Staff>.
-Mittelstadt, Jennifer. "PHILANTHROPY, FEMINISM, AND LEFT LIBERALISM, 1960-1985." Journal of Women's History. Johns Hopkins University Press, 1 Dec. 2008. Web. 25 Apr. 2015. <http://search.proquest.com.libaccess.sjlibrary.org/docview/203247158?accountid=10361>.
-"Byllye Avery | Biography – American Health-care Activist." Encyclopedia Britannica Online. Encyclopedia Britannica. Web. 2 May 2015. <http://www.britannica.com/EBchecked/topic/45622/Byllye-Avery>.