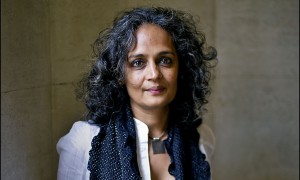 Arundhati Roy was born in a mixed background. Her mother was a Syrian Christian from the southern Indian state of Kerala and her father was a Bengali Hindu. She is well known for her activism in human rights and political issues like India's nuclear weapons and the independence movement of Kashmir as well as environmental issues like the Narmada Dam project which has put her on bad terms with India's elite. She attended school for architects but she wasn't really interested in designing buildings. She wanted to start her literary career and did so while undertaking a few odd jobs and wrote and acted for some movie scripts and television dramas which made her somewhat known.
She received more attention when she wrote two
critical articles about the Indian film Bandit Queen saying that the director had exploited a famous female criminal Phoolan Devi who should have been regarded as a heroine. Phoolan Devi was a lower caste woman who became notorious when she avenged her rape by going after and having 22 upper class men killed. She labeled it as "The Great Indian Rape Trick". She also disliked how the film was made without the consent of Devi and for painting an incomplete picture. For this controversial critique Roy stayed out of the spotlight for a bit and went back to focusing on her novel.
A poster of the film and shots from the movie depicting the female "outlaw" Devi.
The God of Small Things (Booker Prize)
Even the escape from the blood thirsty period of Colonialism has not brought any respite to these Untouchables.
This novel focuses on many different themes of social class, colonialism, and inferiority complexes. These are seen when certain family members of the main characters are described as Anglophiles and love the culture of the British even though others detest them as colonial rulers who look down upon them. This is also seen when a character who is in the Untouchable class shows how the inferiority complex is totally worked its way into their thinking by actually believing and accepting that they are worth less. There is also the theme of prohibited love and how artificially made social c
onstructs can't contain those feelings. Even after the rule of the British, their society doesn't learn how to treat the lower class with respect due to the fact that the Caste mentality has been so engrained. The book also makes references to Roy's political views.
Controversial Political Views
It seems many high ranking politicians and critics from India and elsewhere do not like her views on social welfare and government projects, which seems to be a sign she's doing something right. She has criticized America's repeated invasions and bombings of Middle Eastern countries and equates it's foreign policy and the American version of capitalism as terrorism that is just as damaging as the terrorism being fought overseas. She is also known for criticizing Israel when it invaded Lebanon in 2006 in a letter signed by her, Noam Chomsky and others and described it as a war crime and accused Israel of state terror. She has showed disapproval of many government actions in India as well such as the nuclear arms program, it's refusal to grant Kashmir as an independent state despite mass protests and brutality from authorities in the region, and said that Narendra Modi being elected as India's Prime Mininster was extremely unfortunate and said he was the most aggressive candidate and most militaristic.
Summary on Arundhati Roy
Arundhati Roy's life revolves around her environmental concerns and the lives of those affected. Through her literature, she exhibits empathy and calls for the social responsibility of everyone involved in these issues.
"To love. To be loved. To never forget your own insignificance. To never get used to the unspeakable violence and the vulgar disparity of life around you. To seek joy in the saddest places. To pursue beauty to its lair. To never simplify what is complicated or complicate what is simple. To respect strength, never power. Above all, to watch. To try and understand. To never look away. And never, never to forget."
―Arundhati Roy
References
"War Crimes and Lebanon". The Guardian (London). 3 August 2006. Retrieved 6 April 2009.
Kingsworth, Paul. "Arundhati Roy". Peace Review 13.4 (2001): 591-595. Academic Search Complete. Web. 29 Apr. 2015
Shukla, Veena. "Untouchability and Social Exclusion In Arundhati Roy's The God of Small Things (1997)." J0urnal Of Alternative Perspectives In The Social Sciences 1.3 (2009): 963-967. Academic Search Complete. Web. 29 Apr. 2015
Rose, Brina. "In Desire and Death: Eroticism As Politics In Arundhati Roy's 'The God OF Small Things'." Ariel 29.2 (1998): 59. Academic Search Complete. Web. 29 Apr.2015
http://www.loc.gov/acq/ovop/delhi/salrp/arundhatiroy.html