By Shavanice Stephenson and Kelly Lemons
Barbara Charline Jordan born  February 21, 1936 was an attorney, educator and politician.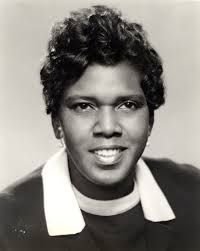 Born in the Fifth Ward of Houston, Texas,  Jordan grew up attending the church where her father was a Baptist preacher and mother a warehouse clerk (Sherman 2007).  In 1956, Jordan graduated magna cum laude  from  Texas Southern University  with a bachelor degree in Political Science and History (Williams 2014). Graduating from Boston University Law  School in 1959, Jordan was one of two African American women and two women overall to complete her degree( Williams 2014). She was admitted to both Massachusetts and Texas bars.
After passing her bar exam, Jordan moved back home where she lived with her parents. While there, she used her parent's kitchen table to help her father's congregation members with their cases (Williams 2014).  She simultaneously worked as an administrative assistant for a local judge.  Her turning point came when she decided to join John F. Kennedy's presidential campaign in 1960. Furthermore, she saw this as an opportunity to advocate more African American voting. Originally starting as an organizer in the mail room, Jordan proved herself when she replaced a speaker, this is where many people started to see her worth (Williams 2014).  After her speech, Jordan felt connected to the people, and she was complimented on focusing on what the people wanted(Williams 2014). According to Jordan, "politics presents the opportunity to shape her identity" in a way that law was not able to(Rogers 1998).
Jordan was an eloquent speaker, humbly and endearingly relating to the people. In the years 1962 and 1964 Barbara Jordan  ran for the House of Representatives but was unsuccessful. This did not discourage her though. She was able to get a  seat on the Texas Senate which made her the "first African American women to win since 1883" (Williams 2014). This was a huge accomplishment, not only for Jordan, but for everyone she would represent and a step closer to changes she would make. This also made her  the first woman to serve on the Texas Senate. While in the Senate, Jordan focused on changes that can positively affect discrimination, the environment, and urban living.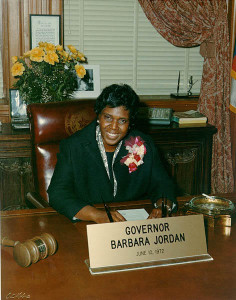 In the year 1972, Jordan was elected to the United States House of Representatives which was a very significant moment for the nation. This signifies the first time an African American women would serve and one of two African Americans to" represent the south in the 20th century" (Williams 2014).  A significant moment in Jordan's life came when she was chosen as  the "President Pro Tempore" of the Texas Senate. The president por tempore title allowed Jordan to serve as the Governor of Texas in the absence of the Governor. In 1974, she delivered a speech in support of President Nixon's impeachment. She stated that the actions of President Nixon violated the Constitution which  is something sacred to all Americans.
In 1976, Jordan became the first African American to deliver a keynote address at a major political party at the Democratic National Convention (Kaylor 2012).  This significant event marked a change for the African American community and clear doubts  many had about Jordan.  Jordan's keynote address is considered "fifth among the greatest speeches of the twentieth century" (Kaylor 2012).
She made the amendment to the Voting Right Act of 1965 which expanded voting rights to all minorities including Mexican Americans, Native Americans, and Asian Americans (Williams 2014).  Her changes made on the Voting Rights Act made it possible for bilingual ballots. She also worked on the Com
munity Reinvestment Act of 1977 which would encourage banks to invest in low income neighborhoods (Williams 2014). This served to eliminate discrimination in loans. Jordan also aided in the legislation of the Workman's Compensation Act of 1987, and was set to increase the disability pay for injured employees(Williams 2014).
The years 1979-1996, Jordan served as a distinguished professor at Lyndon B. Johnson School of Public Affair at the University if Texas. In addition, she continued to deliver more keynote speeches at the Democratic National Convention. She continued to work vigorously to change civil rights amendments and to include all Americans. In 1996, Jordan died as a result of pneumonia from her leukemia. Today, Jordan remains a great inspiration for many women and men of the minority community.
Awards and Honors:
Recipient of the Presidential Medal of Freedom, 1994, Recipient of Joseph Prize for Human Rights, 1993, Recipient of the Nelson Mandela Award for Health and Human Rights, 1993, Inducted into the African American Hall of Fame, 1993, Recipient of the National Civil Rights Museum Freedom  Award, 1992 ,Inducted into the National Women's Hall of Fame, 1990
Bibliography
Kaylor, B. T. (2012). A new law: The covenant speech of barbara jordan. Southern Communication Journal, 77(1), 10-23. doi:10.1080/1041794x.2011.576798
Sherman, M. (Ed). (2007). Barbara jordan. Austin TX: University of Texas Press.
Williams, A. (2014). Barbara jordan. Women Lawyers Journal, 99(1), 38. Retrieved from http://search.ebscohost.com/login.aspx?direct=true&db=brb&AN=97871107&site=ehost-live
http://history.house.gov/People/Listing/J/JORDAN,-Barbara-Charline-