By Estefania Bautista and Stacey Chan
At 66 years old, Aung San Suu Kyi was the first woman to fight for basic human rights during Burma's (Myanmar) military mistreatment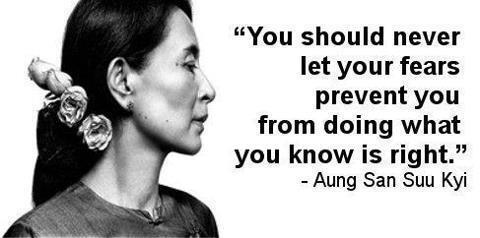 for the people.  (BBC News). Writer and leader of the National League for Democracy, she has become a well known and respected figure in Burma's democracy.  Suu Kyi lead a nonviolent act with her party towards the 1990 elections, through her speech, Freedom from Fear.  In the following year she was awarded a Noble Peace Prize for her 1990 National League for Democracy victory during the election.  She has been through more than 15 years of arrests, through her struggles and was released on November 13, 2010. Today she is the symbol for Burma's democracy and is the founder of the Suu foundation organization.
Aung San Suu Kyi was born on June 19th, 1945,  in the city of Rangoon, Burma's capitol . (Oxford Burma Alliance). Suu Kyi was the daughter of Aung San, Burma's independence hero, who was assassinated during Burma's independence transition. (BBC). For 15 years Suu Kyi was educated in Burma and in India and in 1964 she moved to the United Kingdom to further her studies at St. Hugh's College of Oxford Academy, to study philosophy, politics and economics . By 1972 Suu left  married Michael Aris, a Tibetan culture scholar. She has two sons named Alexander and Kim (BBC).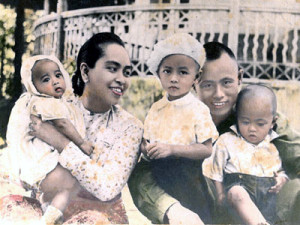 Aung San Suu Kyi's parents with their children.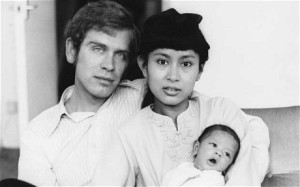 Aung San Suu Kyi with her husband and child.
In 1988 Suu returned to Burma to help nurse her dying mother. It was at the same time that Burma was in the middle of its political democratic uprising. She became engaged with the democracy uprising, soon after her return to her hometown (Oxford). Inspired by the non-violence campaigns of civil rights leader, Martin Luther King and India's independence leader Mahatma Gandhi, Suu Kyi began to organize rallies and traveled to many countries promoting her call for democracy (BBC).  On August 26, 1988 Suu gave her first speech, Freedom from Fear and became the leader of the National League for Democracy (NLD). This marked the beginning of her campaign against the Burmese military regime and has received the nickname 'The Lady' (Lang, 2). She was soon placed under house arrest in the following year, along with most of the NLD committee for speaking out against the former dictator (4).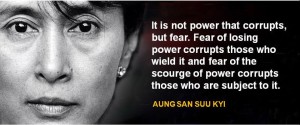 Suu has given multiple speeches and attended several political activities.  During the 1990 election, Suu Kyi led her the NLD to a landslide victory against the military junta  despite being under house arrest (Oxford). However, because the junta refused to hand the power over to her, the results were not recognized. Suu Kyi was released from her house arrest in 1995, but was placed under house arrest again in 2000 while trying to travel to Mandalay while defying the traveling restrictions (BBC).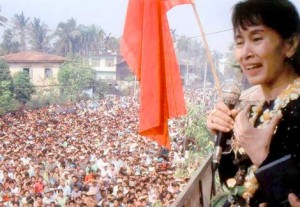 Although her resistance to the military government of Burma was peaceful (Midekssa 172), it did not stop them from seeing her as a dangerous opponent and because of this Aung San Suu Kyi has spent a large amount of time under house arrest. She first was placed under house arrest in 1988. The regime forbid her from running for elected office, using her marriage to a foreigner as an excuse to cut her off from any political involvement (Brooten 137). It wasn't until six years later that she was released and free to leave her home. Yet the regime still insisted on keeping her within their grasp and placed strict travel restrictions on her.  It was these restrictions that lead her to be placed under house arrest for a second time in 2000 when the regime caught her trying to go to the city of Mandalay. These arrest would continue with her being arrested again in 2003 and 2009 (Guyer-Stevens et al.). Each time on the basis that she had breached her terms of arrest.  Through these various attempts to keep her quiet and out of reach of power, the regime wanted to break  Aung San Suu Kyi spirit and make an example of her that if you tried to go against the government, they will not hold back.
Even with the constant oppression placed on her by the regime, it did not devalue her strong beliefs of re-establishing democracy and human rights in Burma (Toloui and Sinnar 52). She even stated in an interview with the Harvard International Review, after her first prison release, that the climate in Burma was "… a mixture of both fear and hope. There is still a lot of fear, and, of course, the future is uncertain. But many of us are ready to work for what we want, so there is also confidence and hope. What we would like to see now is positive steps toward true democratization, including the initiation of dialogue, the release of political prisoners, and the reestablishment of the right of political parties to function freely." Through the years she has not only held to that hope but has also been recognized for it, receiving the Sakharov Prize for Freedom of Thought in 1990, the Nobel Peace Prize in 1991 (53).  She received many of her awards still under house arrest and became the first living recipient of Nobel Peace Prize's to be imprisoned (Brooten 138).
Now in recent years she still hopes to lead Burma one day but because of it's current constitution, she is not allowed (Brennan et al). Yet that does not diminish her dream. Even more now that her close friend, Hillary Clinton, is running for Presidency, she insist on pursuing the top job.
No matter what obstacle placed in front of her, Suu Kyi has been able to overcome it in the last 27 years. Through her article, titled "The spirit of Aung San Suu Kyi", author Midekssa can't help but ask  "…how different Burmese history might be had her mother fallen ill at another time." The impact Suu Kyi has left is too big not to picture a history without her hard work and resilience.  She has shown what it truly means to fight for what you believe in as a female politician, a role that is not widely accepted for women and that has a few prominent women actively participating in. Even though her battles occur in her home country, women all around the world can relate to her struggle because they are all more likely to be encouraged to keep their thoughts to themselves than to share them. Suu Kyi emphasis on being free from fear when pursuing a goal because once you let go off that fear, that's when you really take off.
 Aung San Suu Kyi's 2012 Noble Peace Prize Speech
The Suu Foundation organization , was created with Co-Founders Hilary Clinton and Lura Bush.  Founded in 2013 it is a non profit organization that promotes improves healthcare and education to the people of Myanmar (Suu Foundation). Suu Kyi believes that because Myanmar was isolated during the change, the education and healthcare has declined drastically. The foundation has provided the Teachers Exchange and Training (Text) Program, Mobile Library Program and reviving the University of Yangon to enhance a healthy education for several students (Suu Foundation). In addition to improving education, the Suu Foundation also catered to improving healthcare. The organization rebuilt the Yangon Hospital with investment into a now thriving institution. In addition to rebuilding the hospital, the foundation also provided 21 boxes of medical supplies to many makeshift clinics in the Rakhine State of Myanmar. The committee seeks to continue to improve the education and healthcare of Burma for many years to come.
Aung San Suu Kyi's Speech from Suu Foundation's Opening Ceremony
---
Bibliography
Birtukan Midekssa. "The Spirit of Aung San Suu Kyi."

Journal of Democracy

23.3 (2012): 171-174. Project MUSE. Web. 1 May. 2015. <https://muse.jhu.edu/>.
Ramin Toloui and Shirin Sinnar. "Between Fear and Hope: The Struggle for Democratic Reform in Burma: An Interview with Aung San Suu Kyi." Hardvard International Review. 

Vol. 18, No. 1 (Winter 1995/96)

, pp. 52-53. Published by: Harvard International Review

Stable URL: http://www.jstor.org/stable/42760624

Lisa Brooten. "The Feminization of Democracy under Siege: The Media , " The Lady" of Burma, and U.S Foreign Policy." NWSA Journal. Vol.17, No.3. States of Insecurity and Gendered Politics of Fear (Autum 2005), pp. 134-156. Published by: The Johns Hopkins University Press
Stable URL: http://www.jstor.org.libaccess.sjlibrary.org/stable/4317161
Guyer-Stevens, Malia. "House Arrest Timeline for Aung San Suu Kyi | The Center for Investigative Reporting." House Arrest Timeline for Aung San Suu Kyi | The Center for Investigative Reporting. The Center For Investigative Reporting, 4 Nov. 2010. Web. 1 May 2015. <http://cironline.org/reports/house-arrest-timeline-aung-san-suu-kyi-2418>.
Brennan, Elliot. "A Tale of Two Presidential Aspirants: Hillary Clinton and Aung San Suu Kyi." A Tale of Two Presidential Aspirants: Hillary Clinton and Aung San Suu Kyi. The Interpreter, 28 Apr. 2015. Web. 1 May 2015. <http://www.lowyinterpreter.org/post/2015/04/28/A-tale-of-two-presidential-candidates-Hilary-Clinton-Aung-San-Suu-Kyi.aspx?COLLCC=2207780048&COLLCC=2197028100&>.
"Profile: Aung San Suu Kyi – BBC News." BBC News. BBC News, 10 Nov. 2014. Web. 1 May 2015. <http://www.bbc.com/news/world-asia-pacific-11685977>.
"ASSK." – Oxford Burma Alliance. Oxford Burma Alliance. Web. 1 May 2015. <http://www.oxfordburmaalliance.org/
Lang, Hazel J. "The Courage Of Aung San Suu Kyi." Overland 183 (2006): 61-66. Humanities International Complete. Web. 1 May 2015 <http://libaccess.sjlibrary.org/login?url=http://search.ebscohost.com/login.aspx?direct=true&db=hlh&AN=21700336&site=ehost-live>
"Suu Foundation | Aung San Suu Kyi." Suu Foundation. Web. 1 May 2015. <http://www.suufoundation.org/>.