By: Bryan Nguyen and Josiah Columna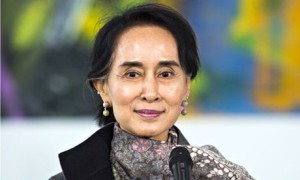 Biography:Aung San Suu Kyi was born on June 19, 1945. Her father is Aung San, who was the previous prime minister of British Burma. He was assassinated in 1947. She went to school at the University of Oxford. Married in 1972 and had 2 children. She did not return to Burma until 1988. She has a long history of getting arrested for speaking against the Burmese government. She was awarded the nobel peace prize in 1991 for her fight for human rights and democracy.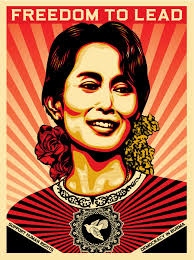 Aung San Suu Kyi was the daughter of a liberation leader. She spent majority of her life outside of Burma. In 1962,  U Ne Win stage a coup d'etat and took over the burmese government. Soon he back down and declared marshall law and the military took over and started to oppress the people. When Aung San heard, she returned to Burma in 1988 to take care of her ill mother. Although she had heard many rumors of what they were doing to protestors, she still insisted on taking a stand to the oppressing government and had her first speech in 1989. She won a nobel prize for her many years of peaceful protest against the tyranny of the Burmese military as she pushed for a government reform in Burma. She associated herself with the National League For Democracy which she help organize and form. She won a Nobel Peace prize for her ability to stay peaceful throughout all the imprisonment of her colleagues and herself. She spent many years going in and out of jail, although there have been many time when the military wrongfully put her into prison and she lost many years of her life to prison. She spent over 15 years under house arrest and was released in 2000 to be shortly replaced on house arrest until 2002.
Suu Kyi began her career as a politician began in the United Nations in New York, working as an Assistant Secretary for the Advisory Committee on Administrative and Budgetary Questions from 1969 to 1971 (Koistinen, 2003). As an academic, she wrote articles and essays on Burmese History. Some of her writings include "My Country and People," "Literature and Nationalism in Burma," and "My Father" (Koistinen 2003). From her expertise in Burmese history and her ability to communicate to broad audiences, Suu Kyi had a strong background when entering the world of politics. In 1988, in front of several hundred thousand at the Shwedagon Pagoda in Burma, Suu Kyi gave her first public speech; this speech put her in the spotlight as a leader for the nation's struggle for democracy. Suu Kyi felt that her rally was for "informing the whole world of the will of the people" (Koistinen 2003).
Suu Kyi was placed under house arrest on July 20 1989 while attempting to visit her father's grave (Koistinen 2003). During her arrest, Suu Kyi continued to write essays and letters, developing her ideas for democracy; some of her essays, like "Quest for Democracy" and "Freedom from Fear," were smuggled out of the country and published abroad (Koistinen 2003). She was released from her arrest in 1995 and continued her political activity, speaking out against the government and advocating a dialogue for the forwarding of democracy in Burma (Koistinen 2003). On December 10, 1990 the Nobel committee announced that Aung San Suu Kyi would receive the Nobel Peace Prize, honoring her for her efforts for the forward movement of democracy, human rights, and ethnic conciliation by peaceful means (Koistinen 2003).
Aung San Suu Kyi was a powerful inspiration because of her non- violent ways. She stayed calm and collected and her will-power boost the morale of her supporters. She was extremely organized and did things smartly why staying true to her belief. During an interview with a reporter had asked how does she keep her supporters and organization to stay together and strong during the times the military had arrested their leaders, including herself, and killing their supporters. She replied, "Simply by reorganizing our party." (Toloui 1995)
"If you look at the democratic process as a game of chess, there have to be many, many moves before you get to checkmate. And simply because you do not make any checkmate in three moves does not mean it's stalemate. Theres a vast difference between no checkmate and stalemate. This is what the democratic process is life."
-Aung San Suu Kyi
Help find the Suu Foundation along with Hilary Clinton and fellow nobel peace price winner Laura Bush. This foundation was built to help aid in the the health care and education of Myanmar. Suu believed that without a strong education for the future of Myanmar population would help move Myanmar in the right direction. Help rebuild University of Yangon and Yangon Hospital by supplying them with the right tools. She also believed in health care and is a strong campaign against Aids and HIV.
Bibliography:
Koistinen, Alison. "Peace Profile: Aung San Suu Kyi." Peace Review 15.3 (2003): 349.  Academic Search Complete. Web. 1 May 2015.
Toloui and Sinnar "Between Fear and Hope: The Struggle for Democratic Reform in Burma: An Interview With Aung San Suu Kyi,Harvard International Review, Vol. 18.1, (1995), 52-53, Jstor Web 1, May 2015
Myoe, "The National Reconciliation Process in Myanmar"Contemporary Southeast Asian, Vol 24.2, (2002), 371-384, Jstor Web 1, May 2015
Callahan, "Burma in 1995: Looking Beyond the Release of Aung San Suu Kyi."Asian Survey, Vol.36.2, A Survey of Asia in 1995: Part II (1996), 158-164 Jstor Web 1, May 2015