By Stephanie Cheng & Estelia Velasquez
Bernice Johnson Reagon is a social activist, scholar, and singer. She was born on October 4th, 1942. She grew up in Georgia in a happy household, but despite this fact, she was faced with the hardship of racial discrimination. This racism was especially prominent in her education, where she had to study in a "segregated one-room schoolhouse where teachers secretly taught black h
istory" (The History Makers: Bernice Johnson Reagon).
Reagon entered Albany State University in 1959 at the age of 17, where she studied music and served as the first secretary of the National Association for the Advancement of Colored People (NAACP). During her stay at Albany State, she participated in a Civil Rights demonstration, which resulted in her arrest and expulsion from the University. She had transferred to another University shortly after her arrest, but after only one semester, she withdrew from the University to join the Freedom Singers. This group were Civil Rights Activist singers and were organized by Cordell Hull Reagon, a member of the Student Nonviolent Coordinating Committee (SNCC).
In 1963, she married Cordell Hull Reagon who she met while working with the SNCC. They later had two children: A daughter named Toshi, and a son, born a year after, named Kwan Tawna. Her daughter Toshi is also a singer-songwriter.
During her time as a Freedom singer, she toured the country and travelled internationally to raise funds for the SNCC. Her participation in the Civil Rights Movement reaffirmed her purpose as a singer. She had people in her life whose

stories needed to be shared, and she helped them share their stories by giving them a voice in her songs. The Freedom Singers sang wherever they could find an audience, the places ranging from large concert halls, to small living rooms. Freedom Singers recognized that singing was an outlet of protest for those who typically were intimidated by racist authorities or mobs.
In 1967, after four years of marriage, Reagon and her husband divorced, and both went their separate ways. She continued to support the Civil Rights Movement, with her goal to spread ideas about equal treatment for all people, regardless of their race. Her vision of the world was a world without racism, sexism, or political oppression. Through singing, Reagon was able to spread these ideas and leave a lasting impression on others. Her inspiration for songwriting and singing came from the songs that the elders sang during mass and community gatherings.
In 1973, Reagon organized a capella group called "Sweet Honey in the Rock", which consisted of six female members. The members included Reagon, Shirley Childress Johnson, Ysaye Maria Barnwell, Nitanju Bolade Casle, Aisha Kahil , and Carol Maillard. Their music was all about sanity and balance. In an interview that Reagon did, she said that singing in front of a black audience, especially black women, was a bit difficult because many people were not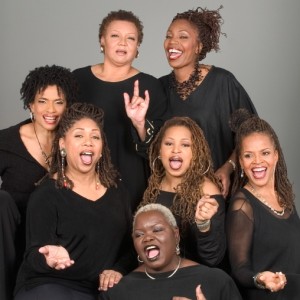 accustomed to the idea of a black women artist. The songs she wrote highlighted and carried her practice as well as principles, which appealed to many black folks who felt a sense of connection to their culture. Their Grammy nominated song "Emergency" focused on AIDS, worker, environmental exploitation, and racism. These are issues that black community faces everyday, and is rarely talked about specially through a song. Many of Sweet Honey in the Rock songs resonated with the black community, these were songs that they felt truly connected to.
In one of her interviews that took place on November of 2007, Reagon discusses the significance of one of her songs from Sweet Honey in the Rock. The lyrics consists of the phrases "We who believe in freedom cannot rest / We who believe in freedom cannot rest until it comes / Until the killing of black men, black mothers' sons / Is as important as the killing of white men, white mothers' sons" (Bill Moyers Journal). The song lyrics refer to the murder of three black Civil Rights Activists in Mississippi (year 1964), whose bodies were found later  in the river. The search for their bodies was delayed due to the fact that people were not as concerned about their deaths as they would have been about a white person's death. The overall purpose of the song is to express that a black man's life should be valued just as much as a white man's life.
Reagon has received numerous awards such as the MacArthur Fellowship for her work with the African American culture, and the Peabody award for hosting a
radio show at the Smithsonian Institution and National Public Radio. She has also received the Charles Frankel prize in 1995 for her outstanding work in humanities.
Today, Reagon works as a history professor at American University and a Curator Emeritus at the Smithsonian Institute, where she teaches African American music and history, performance and protest traditions.
Bibliography
"Bernice Johnson Reagon." Bio. A&E Television Networks, 2015. Web. 30 Apr. 2015.
Dotson, Kristie. "Radical Love." Black Scholar 43.4 (2013): 38-45. Academic Search
Complete. Web. 21 Apr. 2015.
Farrell, Mary H.J., and Rochelle Jones. "Raising Her Voice." People 42.24 (1994): 149.
Academic Search Complete. Web. 17 Apr. 2015.
Perez, Marvette. "Interview With Bernice Johnson Reagon." Radical History Review 68
(1997): 4-24. Academic Search Complete. Web. 17 Apr. 2015.
Reagon, Bernice Johnson. Interview. The History Makers. History Makers, 2 Sept.
Web. 30 Apr. 2015. <http://www.idvl.org/thehistorymakers/
Bio232.html>.
– – -. Interview. Bill Moyers Journal. Public Affairs Television, 23 Nov. 2007.
Web. 30 Apr. 2015. <http://www.pbs.org/moyers/journal/11232007/
watch3.html>.